Designer, educator and artist working with emerging technologies such as Blockchain, Machine Learning and Biotechnology.
Cyrus Clarke is a designer, educator, artist and researcher. He works at the intersection of emerging technologies, science and design to promote lifelong learning, critical thinking and environmental responsibility. He is passionate about making scientific and technological discoveries 'more human' by creating tangible experiences, artifacts, services and games that everyone can engage with. To do this, he has developed a practice at the intersection of art, science and emerging technologies such as machine learning, mixed reality, biotechnology and blockchain.
As founder of What The Block, an educational game, which demystifies blockchain through gamified learning, he organizes blockchain seminars and speaks at conferences, universities and board-rooms to bring the true value of this technology to a wider audience. He has also created a bespoke Blockchain design sprint workshop, which helps people and companies go from zero-knowledge to prototyping an idea in just 5 days. To date participants have crafted ideas ranging from identification systems for Syrian refugees at the Lebanese border, to more speculative work such as Coral Coin, a smart contract based auto-governance for coral reefs.
His philosophy is to seek opportunities to build bridges between humans, technology and nature, to help reframe and understand the big questions and challenges of the future, particularly around climate catastrophe. As a nomadic, curious thinker, he is always striving to provide imaginative, diverse and inclusive visions for desirable futures. To bring this philosophy to others, he uses storytelling and immersive experiences, which trigger imaginative thinking on topics ranging from the future of energy, to storing data in DNA, and emotional AI. His creative work has been recognised by the Interaction Awards, and Prix Blox Interactive, and exhibited internationally, including shows in the United States, France and Denmark.
Prior to becoming an independent creative and researcher, Cyrus was the Digital Innovation Lead working on the digital transformation of the world's largest cosmetics company, L'Oreal in Paris. He is an alumnus of the University of Nottingham with a BSc in Economics, and holds an MA in Interaction Design from the Copenhagen Institute of Interaction Design.
When not in the Global North, Cyrus spends his time in Bangalore, working on his dream to launch an educational institute of the future; a multi-disciplinary environment uniting people with different backgrounds to develop skills, think critically, act responsibly and prepare for the challenges of tomorrow.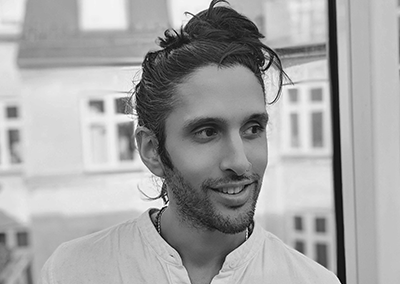 Cyrus Clarke
Futurist and design researcher.
Cyrus talks about Creative, Blockchain and Art Technology