Business Angel and Impact Investor, Board Member CIID. Talks on Purpose Driven Organizations, Investing for Impact and Human centred innovation.
Søren Stig is an impact investor, purpose-driven entrepreneur, professional board member and seasoned business executive. As a cautious optimist he views new business models and unusual partnerships as opportunities to create shared value and tackle some of humanities grandest challenges. He sees exponential technologies as a mean to an end – or as tools in a new and expanding toolbox.
As a trained global trade and supply chain expert, Søren
draws on a 20 year-long international career at the Maersk Group. He has worked closely with some of world's largest multi-nationals and has successfully led a host of global
change initiatives while holding executive positions ranging from Global Head of Sales and Chief Sustainability Officer for Maersk Line. Søren Stig accepted KPMG's Global Strategy
price in 2011 as well as the prestigious European Business Award based on his sustainability and industry-wide leadership.
Søren holds an executive MBA (honours) from IMD Business School in Lausanne, Switzerland. He has supplemented his education at Singularity University and was accepted into SingularityU Labs accelerator in Silicon Valley in 2015.
Søren is recognized as expert on business innovation, new partnerships, impact design and sustainable development. He is currently a senior advisor to the United Nations as well as the Danish Growth Fund and sit on multiple profit/non-profit boards. He is multi-lingual, at ease at all levels internationally and can execute talks about the future role of business in society in both Danish & English.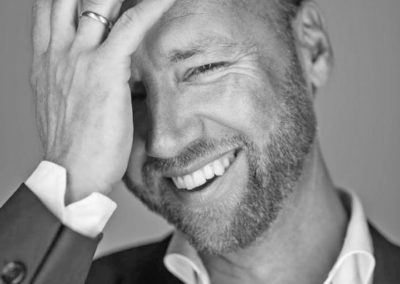 Søren Grove Stig
Speaker, impact investor, advisor.
Søren talks about Impact Investment, Sustainability and SDGs